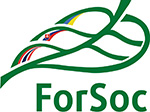 Forests for the society – forests without barriers (FOR SOC)
The "Forests for the society – forests without barriers" (CBC01013) project is implemented within the framework of SK08 Cross‐border Cooperation Programme of Norwegian Financial Mechanism 2009 ‐ 2014
The intended outcome of the Cross‐border Cooperation Programme is the mitigation of existing barriers to cross-border cooperation, with the planned Program´s Output - new cross-border partnerships/networks established and existing partnerships/networks supported
Partners:
National Forest Centrum (Lead partner):
Municipal Forest Enterprise of Kosice city
Church Forest Enterprise PRO POPULO Poprad
Agency for Sustainable Development of the Carpathian region "FORZA"
National Nature Park "Zacharovanyi krai"
Skogbrukets Kursinstitutt Forestry Extension Institute
Vocational Forestry School
National Council of Persons with Disabilities in Slovakia
Transcarpathian Forest and Hunting Administration
Project target area:
Ukraine: Zakarpattia region
Slovakia: Kosice and Presov regions
Target groups:
staff of forestry institutions
forest owners and users
environmentalists
pupils from school floristries and secondary schools
students of forestry and natural sciences
nature friends and other interested parties
Project duration: July 8, 2015-April 30, 2017
Project grant: 597 881 €
Project´s Co-financing: 105 508 €
Project web: www.forsoc.org
Project focus and aim:
The project focuses on the establishment of cross-border partnership aimed to support tourism development and its promotion (especially forest tourism) together with increasing the capacity of multifunctional forest management to fulfil social functions and offer services for forest visitors and tourists including young generation and people with special needs.
The aim is to set up joint cross-border activities and events focusing at exploring natural and related cultural heritage of the concerned area and supporting awareness about the key role of forests for sustainable life on our planet and necessity of responsible citizenship. In addition, the aim is to increase knowledge about forests and all their values and products and deepen the understanding of nature, especially among the youth. The created cross-border partnership consisting of diverse institutions from Slovakia, Ukraine and Norway will enable pooling knowledge, transfer of best practices, methods and approaches for forest related recreation development.

Objectives and planned activities:
creation of model educational facilities and setting up model experiential outdoor programmes and activities for various target groups (forest trips for pupils, students, disabled people, forest summer camps, forest fest events, etc.)
development of educational programme – training course on ecotourism, forest tourism and forest related environmental education based on the conducted analysis;
testing of training course during the training of trainers for 40 participants from Slovakia and Ukraine
improvement of knowledge of 80 study tours participants and their skills in ecotourism and forest tourism services by visiting to the best practice sites in Slovakia, Norway and Ukraine
enabling professional foresters use the new methodologies for multifunctional forest management based on best European practices and sustainable forest management standards (forest certification) for the benefit of the society
implementation of model activities promoting the idea of forests as a healthy and friendly environment for everyone and anyone without restrictions by the trained foresters, ecologists, students of forestry and natural sciences and other interested stakeholders
creation of demonstration educational and tourism objects (adventure trail, animal feeders, observation towers, bird watching spots, oxygen sport trail, etc.) on the areas of Municipal Forest Enterprise of the Košice city and Pro Propulo Church Forest Enterprise and will be developed in natural areas of Užhorod and in Irshava district as well. Selected tourism infrastructure in forest areas of Slovakia will be built to meet technical standards for the disabled with limited movement abilities and particular facilities will be designated for blind people, as objects will use Braille and guide strips
exchange of experience, knowledge, formal and informal communication, better mutual understanding and initiation of cooperation of main groups in the regions via environmental education in forest summer camps in English for 40 kids, Forest Fest Celebration, international conference, etc.
​Harmonogram
XII /15 OPENING CONFERENCE
Opening Conference kicked off the project on 15th of December 2015 in Kosice. The conference was attended by 50 people
I - IV /16 THE SURVEY AND ANALYSIS OF EDUCATIONAL NEEDS, LAUNCHING PROJECT WEBSITE
The aim of questionnaire is to find out the interest about the forest pedagogy at schools and educational establishments
II -V /16 CASE STUDY, CREATION OF EDUCATIONAL PROGRAM
Based on the identified needs of the target groups an educational program focused on ecotourism and forest education will be developed
II -XII /16 DEMONSTRATION EDUCATIONAL OBJECTS FOR THE DISABLED AND OTHER VISITORS
Tourist infrastructure with a demonstration learning objects for ecotourism and forest education (experiential nature trails, leisure equipment, surveillance equipment, educational objects, non-barrier elements) will be set up by Municipal forests in Košice, Propopulo in Poprad, FORZA in Uzhhorod and and Zacharovanyi kray in Irshava
VI-X /16 STUDY TOURS
80 participants of study tours will be able to explore the places with the best examples of work in Slovakia, Norway and Ukraine. It will enhance their practical skills, provide them with inspiration for a wider provision of services to the public, with an emphasis on European standards and the standards of sustainable forest management (forest certification )
VII -X /16 TRAINING OF TRAINERS
Implementation of training of trainers for 40 participants from Slovakia and Ukraine, and subsequently accredited by the Ministry of Education, Science, Research and Sport within the system of lifelong learning training program
VII/16 INTERNATIONAL CHILDREN'S CAMP
Summer camp in English for 40 children will focus on exchange of experience and knowledge, formal and informal communication, improve understanding and language skills, learning about the natural and cultural heritage in the project area, promoting cooperation actors to raise awareness of the importance, value and products of forests throughout region
VII –XI/16 PROGRAM FOR CHILDREN
Forest pedagogy for 120 children, will focus on the exchange of experience and knowledge, formal and informal communication, improve understanding and language skills, learning about the natural and cultural heritage in the affected area, promoting cooperation actors to raise awareness of the importance, value and products of forests in the region.
IV /17 CLOSING CONFERENCE
IV /17 FORESTRY DAYS 2017