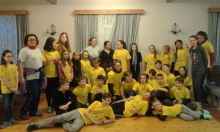 19 -26 February 26, 2017 a group of children from Ukraine, accompanied by representatives of NGO FORZA and Transcarpathian environmental educational center for youth, joined the international Winter Forest Camp, held in Norway. Children from Slovakia, Norway and Ukraine were already familiar with each other through participation in a summer eco-camp, held in Slovakia 4-11 July 2016 (reference http://forza.org.ua/uk/forests-society/druzi-lisu-nazavzhdi-deviz-lisovo... ).
Due to additional financing of the project it was possible to conduct the Winter camp in the Bjøntegaard forest camp in Hanestad – 5 days with the continuation of the program for the remaining two days in Lillehammer.
Forestry Extension Institute (Biri, Norway) organized in frame of the project Forests for society – forest without barriers (FOR SOC, www.forsoc.sk) the activity – Winter Forest Camp. The aim for organizing the camp for 30 children and 10 adults from Slovakia, Ukraine and Norway, was to enhance cross-border cooperation, improve English skills, learn about nature and culture heritage, and create the space for exchange of knowledge and experience related to forestry and pedagogics. The camp activities were done by certificated forest pedagogues. The forest camp is supported by Norway Grants.
So, what interesting and informative activities can be provided in the winter forest, more over – in such a cold country like Norway?
From 19 to 24 February 2017 kids were in Bjøntegaard - that is a school camp in the county Hedmark, situated in Hanestad by the river Glomma. Camp belongs to the third generation of the camp holders who own both owners and camp teachers. This is a wildlife area, surrounded by pine and spruce forests.
Each day started with cleaning of the premises, but this was not a boring duty – rather entertainment.
The food was a bit unusual for us – good breakfast, sandwiches with hot tea for lunch and warm dishes for dinner, but due to many outdoor activities, this regime turned out to be sufficient and enough.
Every day camp program was very intensive and one can write whole stories about every day in Norway, but let's just list the forest pedagogy and winter games: archery with wooden traditional Norwegian arch, shooting with air guns, climbing on a specially equipped wall, running on snowshoes, relay race with wooden circles, forestry activities – tree felling (kids did everything themselves after explanations of safety rules, using real axes and saws), preparation of wooden sticks for grill, selection of bark, branches and fruits according to the tree species, measurement of the tree diameter, making the campfire at speed with three matches and four logs, production of coal and tar ice fishing, dog sledding and horse riding, treasure hunt in the dark, visit a wildlife feeding station.
The most unusual and unforgettable experience for all participants was the out-door sleeping - over-night in a tent named lavvoo. Each country participated by turn, and all passed this test honourably, although the temperature was from 7 to 18 degrees in different nights.
Each country also presented own forest pedagogic activities, Ukraine played game "How the forest is growing", market of activities – game "Guess what", Forest Picasso, game "Catch a stick", Norway – what can be made from wood, making paper, wood properties, origami, snowflakes, decoration of branches with coloured feathers, Slovakia prepared activities devoted to the birds, with demonstration of birds images and sounds, colouring the clay figures of birds, playing games – "Bats and butterflies", "Bird is flying.". At the end of each indoor activities kids were given with some prizes and sweets.
In Lillihammer there was a visit to very interesting Lillehammer museum - Maihaugen –and Hunderfossen Winterpark. There were no boring excursions in the museum, but there were three stations where kids got practical knowledge about traditional food and wooden houses, as well as forestry houses. And the Winter park was very exciting, as kids participated in the winter fairy tale about trolls, and were charmed by ice sculptures and winter entertainment activities.
At the last day of the camp kids saw the center of the Lillihammer, and then there was joyful downhill on sledge and skis, and adults participated in this game as they were kids, as all camp participants!
During Farewell party all remembered the activities of the camp due to the wonderful presentation of the Norway colleagues, exchanged presents and souvenirs, and made one common wish – let one mope camp come true! Ukraine is ready to conduct such a camp, let's hope that there will be found the financing and funds for it. Now all camp participants are sincerely grateful for the excellent organization of the camp to the team of Norway – Anna Lena Albersten, Nina Ree-Lindstad and Helen Bakke Udenstad!