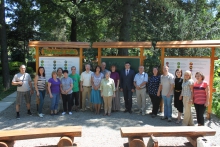 "Green class" under the open air, that has been established by NGO "FORZA, Agency for the Sustainable Development of the Carpathian Region FORZA" within the framework of the project" FORSOC - Forests for Society - Forests without Barriers", was officially presented today in the Uzhhorod Botanical Garden. The location is equipped with banches for seating, a board on which you can write with chalk, as well as stands with interesting information about the city's botanical garden, in particular, its history, collections of plants, and the calendar of flowering.
According to the words of the NGO "FORZA" head Lesya Loyko, the main idea of ​​this micro-project is to make education more interactive, to enable teachers to use natural space in the training of not only disciplines about the environment, ecology, but also other disciplines. This class can be used both in school agenda and in extra-curriculum education.
Lesya Loyko expressed gratitude to all those who joined the project implementation – Uzhhorod city leadership, Uzhhorod National University, NGO Paralelniy Svit (Parallel World), and the International Program of the US Forest Service, and this program has provided financial support together with the Norwegian and Slovak funds.
Deputy Mayor of Uzhhorod city Olexander Bilak said that the idea of ​​creating a "green class" is very interesting, and the project will certainly help to "tear" children not only from school classes and closed spaces, but also from modern gadgets, computers, that began to take up a lot of time in the life of a modern younger generation. "The continuation of such an idea could be the creation of similar classes in other location of the city - squares, parks located near educational establishments. City authorities are always ready to support good initiatives and promote that such useful projects for our children were implemented in Uzhhorod," - the deputy mayor underlined.
Director of the Uzhhorod Botanical Garden Dmitry Soyma thanked the city administration and all those involved in the creation of the "green class" and expressed hope for further cooperation, noting that there is still plenty of space in the botanical garden where one can make interesting locations, implement various projects that will promote development of science, educational process.
According to the materials of the media service of the Uzhgorod City Council.
Photos of NGO FORZA from opening ceremony - https://goo.gl/photos/iFxG7hbPxtszfMN49
Additionally:
The "Forests for the society – forests without barriers" (CBC01013) project is implemented within the framework of SK08 Cross‐border Cooperation Programme of Norwegian Financial Mechanism 2009 ‐ 2014. The intended outcome of the Cross‐border Cooperation Programme is the mitigation of existing barriers to cross-border cooperation, with the planned Program´s Output - new cross-border partnerships/networks established and existing partnerships/networks supported Project Coordinator - National Forest Centrum (Lead partner), partner are Municipal Forest Enterprise of Kosice city, Church Forest Enterprise PRO POPULO Poprad, Agency for Sustainable Development of the Carpathian region "FORZA", National Nature Park "Zacharovanyi krai", Skogbrukets Kursinstitutt Forestry Extension Institute, Vocational Forestry School, National Council of Persons with Disabilities in Slovaki, Transcarpathian Forest and Hunting Administration.
More information about project: www.forsoc.org and https://www.facebook.com/forsoc.eu/
Project is supported by a grant from Norway, co-financed by the State Budget of the Slovak Republic. Slovakia – Ukraine: Cooperation across the Border"/Cooperation with common values", www.norwaygrants.org and US Foresrt Service International Programme