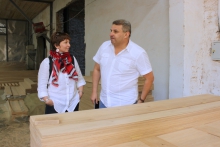 In the process of selecting new companies for participation in SIPPO program we have visited three wood processing companies in Vinnitsya region. In particular, FORZA NGO visited ATLANT (parquet producer), GELIKA (producer of furniture for schools and kindergartens), and RITON (lamella producer).
We have discussed readiness and wish of of the companies to represent themselves and their products at Europe's biggest trade fairs, and supported by Swiss Import Promotion Program SIPPO. The products of the mentioned companies are high quality and demanded at the Ukrainian market. Our visit aimed to find out whether the companies are also interested to develop their export sales.
As a result of production visits and discussions with company management agreement was made to include RITON and GELIKA to the database of companies – potential participants of the SIPPO program. ATLANT continues to focus more on the Ukrainian customer. In case the companies are interested, SIPPO would welcome them to the joint SIPPO stand at the ZOW, the fair for furniture components, which is going to take place February 16-18, 2016 in Germany.