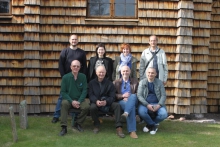 The study tour in Southeast Sweden on May 15-18, 2017 aimed at sharing experience and building cross-border cooperation of various actors to foster value chains for bioenergy. The study tour is organized by the Energikontor Sydost AB jointly with the NGO FORZA in the frameworks of the Secvalchain project, supported by SI Swedish Institute. Ukrainian group included 3 FORZA representatives and 5 companies focusing from wood harvesting and wood processing to district heat supply, pellets production, and biomass market operation:
The study program was very intense and included:
Rottne Industry – that specializes in forest harvesting machines, including harvesters and forwarders
Energy Agency for Southeast Sweden
Branches and tree tops harvesting excursion with representatives of Sveaskog and Uppvidinge municipality
District heating plant, Ingelstad
CHP, Växjö
Sawmill JGA
Tingsryd Energy
CHP Tecnik
CHP Ronneby Miljö

Of particular interest to the Ukrainian delegation was visit to Rottne producing harvesters and forwarders for forest extraction and following demonstration activities for extraction of brushes and tops from the forest that provided valuable knowledge for future investments in the sector.

Participants have assessed highly communication with Sodra forest cooperative and the model of cooperation among local sawmills and district CPHs.
An important and additional positive result came from the meeting with the SIMWOOD project consortium (of which Energikontor Sydost is part) representing forest practitioners, policy makers and researchers looking at the forest residues mobilization issues in Vaxjo.

Some feedback from the participating companies:

Volodymyr Martyniv, VGSM:
Forests in Sweden are mostly in private ownership. Forest is managed by the owners on their own. Silvicultural rules have a general framework where basic principles are outlined, with the main requirement to maintain adequate forest cover. Forest use is controlled by the State Forest Agency in the role of consultant mostly.
We've visited a harvesting site and witnessed work of two forest machines that performed all forest works. In Sweden, with its high personnel costs and high price for energy wood, exploitation of such machines is probably economically efficient. On the contrary, for Ukrainian Carpathians conditions, those machines are not only way too expensive, but the harvester is not suitable for our terrain with steep slopes and the type of soils. Forwarder, however, would be a great solution to take the timber from harvesting plots to roads and to replace traditional skidding of timber on the ground.
I am impressed how open the companies in Sweden were to show us around, to dwell on technological processes and even on markets and to allow us to take photos.

Mykola Kolomyjchenko, Ukrainian Pellet Union
Energy companies are high-tech, focused on renewable energy, energy-efficient, environmentally friendly, and primarily meet the needs of local communities and local industries. The tariffs for thermal and electric energy are the result of consensus between the generating companies and all categories of consumers. CHP plants use only local fuel, which includes waste from forestry and wood processing (ships, sawdust, pellets). Biomass is purchased on the basis of long term contracts. CHP generates electric energy through steam turbines and ORS. ORS is the best combination of productivity, investment and operation costs. About 90% of total cut timber is collected from the forest during harvesting operations – that fully meets the bioenergy needs of Sweden. Almost all timber and its origin is certified. Wood processing companies use production wastes (chips, sawdust, bark) for their technological needs, kilns and heating, and also supply heat energy to local villages. That is an evidence of developed social and corporate responsibility of the industry and the business.
Therefore, I believe we can bring back to Ukraine the experience of Sweden in sustainable management of resources, as a specimen of rational treatment of wastes, organization of interrelations of local communities with energy monopolists by way of consensus and choosing to replace fossil fuel by renewable energy sources. We are also interested in applying the experience of regional energy policy, decrease of state control and improving operations of local utility companies.

Study tour participants appreciate deeply the work of Energikontor Sydost for well-prepared program and excellent organization of the study tour.
Next benchmarking visits are planned for the Securechain consortium meeting and Certification training (June, Greece), benchmarking visit to Ukraine (September, Ukraine) and final Securechain Conference (2018, Germany).