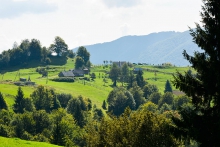 Have you considered being energy independent? Have you already made first steps in shifting from fossil fuels to wood fuel? Then this contest is for you!
The contest aims at support and dissemination of practices, ideas and innovations in using wood for energy.
The contest is open for participants legal entities of any legal form and ownership and for individuals who represent households, community or group of individuals.
The contest is implemented in the frame of the Ukrainian-Swiss project "Identifying Green Energy Options in the Ukrainian Carpathians". The project aims at supporting the energy transition in the Ukrainian mountain region by assessing the sustainable energy wood potential and looking for possibilities how to use the locally available renewable resources in an efficient manner. With the Best Practice Contest the project aims to capitalize on locally available expertise, experience and ideas.
To participate in the contest, the entry form (see below) is to be filled in.
Area of the contest
Practices, implemented in Zakarpattia and Lviv oblast can be submitted to the contest.
Organizer of the contest
NGO Agency of sustainable development of the Carpathian region FORZA www.forza.org.ua
Information partner - newspaper "Derevoobrobnyk"
Best practices / ideas selected by the Selection Committee will be awarded by the innovation grant.
The grant is meant for further improvement of energy use and efficiency measures according to the winners' needs, and are given in form of devices, equipment, etc. or production of technical provisions, design and cost estimate documentation, etc.
1 place – innovation grant of total value up to 1300 CHF and participation in the training from the Information and Training Center on Renewable Energies in Mukachevo http://www.itccleanenergy.com (event selected by the winner)
2 place - innovation grant of total value up to 1000 CHF
2 place - innovation grant of total value up to 700 CHF
Additional prize - one year subscription to the newspaper "Wood processor" to one of the winners.
The grant is not intended to cover current operational costs (personnel, consumables, purchase of raw material etc.) and holding of events.
Selection Committee jointly with the winners will identify the content of the grant to winners.
Most interesting practices / ideas that will not win, will be awarded with diplomas.
Entry form http://forza.org.ua/en/woody-biomass-energy-regional-profile-carpathian-...