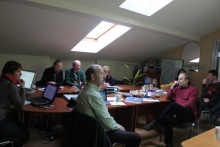 Regular DETLUP project partner meeting took place on November 30, 2016 at the FORZA NGO office at Shvabska str., 51a, 88018, Uzhhorod, Ukraine.
It was a pleasure to again meet the project partners:
NGO FORZA
Uzemne Plany.sk (Slovakia)
NORRIA
Partners Agency for Innovation and Technology Transfer, Moldova, The Regional Environmental Centre for the Caucasus, Georgia, Association for Urban and Regional Planning of the Czech Republic, and Rzeszow Regional Development Agency, Poland have participated by skype. Main aim of the meeting was to discuss the up to date results of the DETLUP project, outline the planes and time framework for the planned events and activities.
The meeting started from summarization of the international workshops "Territorial planning in the current context: important component and impulse for successful economic and social development" that have been held already in three countries: Ukraine, Georgia and Moldova. Key challenges that architects and designers face in the territorial planning have been identified and documented.
Plans for the next period include:
Two more workshops on territorial planning in Ukraine to present the international experience of the territorial planning to other Ukrainian cities of Ivano-Frankivsk and Vinnitsya. Dates and speakers of the Workshops have been identified.
Study tours to V4 countries to benchmark successes and failures of the regional and local development planning and governance. First study tour for 17 international participants in the last week of February will combine the cities of Slovakia and Hungary. The second study tour will take place in late March and will take place in the cities of Slovakia, Hungary and Czech Republic. The detailed program will now have to be determined jointly by the partners.
The partners discussed the content of the Guidebook for EaP countries – an important output of the project. The Guidebook is supposed to present best practices of the V4 countries experience in the territorial planning, including the the legislation used and national, regional and local measures as an example. The Guidebook is currently in the prefinal version.
Land use and city development planners, architects, development NGOs, policy and decision makers will come together in Lviv at the final project event to discuss the project findings on March 30-31, 2017.