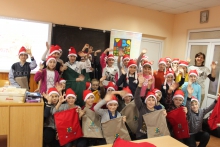 With this title the interactive lessons on energy efficiency, renewable energy and climate change were hold on December 25, at the last day of education period, in the form of games for pupils of 5, 6, 7 and 8 grades, Mukachevo school №16. Nearly 150 school students participated in the event, conducted by Olexandra Khalayim, who is invited in the project framework trainer from Kiev, having considerable experience in events of this kind , and she is a developer and author of energy efficiency games as well.
Children gladly played games aimed at encouraging them in entertaining way to think about the importance of behavior change in relation to energy and resources.
Pupils especially liked movement game "Energy spider-web", aimed at showing children the relationship between different energy sources and their movement on the planet. After playing with children Oleksandra talked with them also about theoretical concepts and processes associated with the problem of mining, the use of renewable and non-renewable sources of energy, the need to save energy at the household level and effective use of available resources.
Another game was the "energy game" when the trainer briefly reminded the players about renewable (wind, sun, water) and non-renewable (coal, gas, oil) energy and why non-renewable sources are more valuable. Then she named various energy sources and the group moved around the room, reflecting the words of trainer (chiding and waving when it comes to the wind, making swimming motions when it comes to water, etc.). If the trainer named non-renewable source, all had to sit down, covering their knees (like pieces of coal) and say "No, thank you!".
Also, a series of short active "warm-up" games were conducted, children especially liked the movement game "Owls and Crows," during which they can both think about certain statements on energy topics ("Curtains help keep the heat in the room" (yes), "Electric current is measured in C (no)), and actively move, catching each other.
The interesting test on energy saving was done, and as result children got to know who of them can be the Ministers of Environment, who are a good example for others, who have a lot of good habits, and who still have much to learn. Children took this test home to perform it with their parents and friends.
At the end of the training, pupils were divided into small groups and played a game "How to continue life of old things" when they had to make a list, answering the questions: How many options to continue life are for a plastic bottle \ glass bottle \ broken umbrella \ old dresses \ pile of old newspapers and magazines? Then the group shared their responses, creating a full list and making conclusions. Another game of the same type was for small groups "Whose waste is more useful?". The objective of the game was to draw the attention of the participants to the quantity of garbage they and their families produce, as well as to the ways of converting the waste into resources. Participants were divided into two groups and they had to make a rough list of the waste that comes to home waste basket in a week; then they discussed every paragraph and thought how to renew waste into resource.
Since the training was held at the beginning of the Christmas holidays, the positive effects of the work and received new information were consolidated via awarding kids with small prizes and refreshment, which was organized by the NGO FORZA. All children received also the new brochure, prepared in the framework of YES project- «Being ECO – is fun ', that provides tips on wise use of energy and resources.
In general, classes were held in a positive atmosphere of cooperation and active intervention of children into work; participants showed themselves as proactive, friendly and open to new information. Hopefully, information, got by pupils, will help the conservation of the planet's resources, because all great things should start with small things that you do yourself.
Enjoy photo-report at https://www.dropbox.com/sh/t410evdiszlf2b0/AAAGSTNzW63rG_KOKU8IfwD8a?dl=0 ,
And TV-news that was broadcasted on December, 26, 2015 at M-Studio TV Channel (start at 7 min 27 sec): https://www.youtube.com/watch?v=cWLVfKJo-WU
Additional info: "YES - Young Energy Specialists against energy waste in cross-border schools" project is being implemented since October 2013 until December 2015 in framework of the Cross-border cooperation Program Hungary-Slovakia-Romania-Ukraine ENPI for 2007-2013, under priority 4: Support people to people cooperation, Measure 4.2. Small scale "People to people" cooperation.