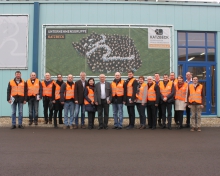 "An investment in knowledge always pays the best interest"
This quote of Benjamin Franklin, which was pronounced by the director of agricultural college in Güssing, became the theme line of the study tour to wood processing enterprises in Austria.
The study tour of Ukrainian wood processing enterprises to Austria took place on March 14-18, 2016, organized by NGO FORZA in partnership with Wood Cluster Styria in framework of RERAM project. Goal of the study tour was to learn about set up of wood processing and furniture production in general, with particular focus on efficient use of raw materials and energy.
Participants of Ukrainian group – owners and managers of the enterprises:
Comprehensive and precise description of the enterprises we have visited are beyond the aims of this report, with this we would like to share what we have seen and what was the most impressive for Ukrainian companies.
Day 1.
Visit to Katzbeck Windows http://www.katzbeck.at/en factory was remembered by participants not only because it was the first out of nine enterprises we have visited, but also because of extreme quality of its windows (wood and wood+aluminum), by in-house staff training and by its "green vision": there are 1800 m2 of photovoltaic facility at the roof of the main office, the company rents out e-cars and e-bikes to their staff.
As we have understood, success of the company is based on the following pillars:
High end technology and quality of the highest level
Reliability, strict compliance with the deadlines, individual approach to clients
Support of team spirit among the staff
In Güssing city we were invited to the exemplary building from wood – training rooms of agricultural college http://www.lfsguessing.at/ and their production premises (cattle and pig barns), made from glued wood. The fact that there are not only residential buildings constructed from wood, but also facilities and commercial building, for us is a novelty (in Austria 15% of all buildings are made from wood), that is why we were interested to examine the buildings. The college director has a very simple, but at the same time, sensible approach towards construction: there is plenty of local resource – wood – around the college, and this resource can and should be used for construction. The building is in line with up to date energy efficiency standards, all premises are accessible for people with special needs.
In 2016 new college building has received a special award for buildings from wood.
Next enterprise Abalon Hardwood GmbH http://www.abalon-hardwood.com/ impressed us by its production capacities – this sawmill with almost complete automatic production is annually processing up to 100 000 m3 of beech timber. Among the advantages the company highlights the following:
The final product is edged, lightly steamed, kiln-dried lumber. Sorting of the products is done after the steaming and kiln-drying and in accordance with the American sorting system (SUPERIOR, CABINET, CUSTOM-SHOP, COMMON-SHOP). This means, that customer buys absolutely predictable timber: no matter what is the purchase date, the customer always gets unified material from the point of view of humidity rate, sort, packaging, steaming colour.
These advantages, seemingly obvious from our viewpoint, produce for the customer a special marketing effect of unique selling point, and favorably distinguish the enterprise from the othes.
Day 2.
Prödl Carpentry http://www.proedl.at/en impresses with its organization of production flow. The company produces custom design furniture and it is immediately felt in the atmosphere of the company – less of automatic operations, more of creative and manual work. Design office is the backbone of the company. "Simplicity. Clarity. Quality. This is my philosophy", - company's executive Josef Prödl says.
It is interesting that this company is a member of the industrial tourism network. As you go through the production, the special boards depict main approaches of owners towards the production. For example: "There are no compromises when it is about precision and quality"; "We work in accordance with the plan – until the last piece".
Josef Prödl explained that Prödl is more than just furniture, – it is the style of the living space. That is how they position themselves at the market and this is how they are perceived by the customers.
Another sawmill production visited by the group, the EHP European Hardwood Production http://www.ehp.at/index.php?id=1&L=1, processes beech, oak and other hardwoods at the annual volume of 45000 m3, out of which 80% are exported. The enterprise purchases raw materials partially from the neighbouring countries (Croatia, Hungary).
Possibilities to purchase products from Ukrainian companies were discussed during round table, organized by Wood Cluster Styria and owner of the EHP European Hardwood Production, head of Austrian association of sawmills, Mr. Polz. During this round table participants had a chance to discuss markets, supply and demand for the timber in different parts of the world, as well as issues of possible cooperation between companies.
Day 3.
Kulmer http://www.kulmerbau.at/ constructs wooden buildings, maximum six floors, of residential and commercial purposes (e.g. office of Vienna metropolitan, ski lift station). Here we could see production of light constructions from glued timber (spruce) and special patented elements under the trademark Kielsteg: light and strong construction elements for roof and structural floors with large passes from 5 to 27 m. Kielsteg elements are composed of timber strips, which form top and bottom flanges, connected by curved webs of plywood or OSB.
These elements allow to build cantilever roof elements and use internal space for installment of wires and pipes, at the same time providing aesthetic look of the wooden beam in the interior. Another advantage of these elements is the possibility it provides to save costs on the supporting frame and wind bracing in case of the gaps larger than 5 m, because exactly from this point, the use of traditional wooden glued elements becomes not profitable.
The Kielsteg manufacturing process relies on two special machines. The Kielsteg assembly machine made by MINDA is the first of these. This machine produces Kielsteg elements in thicknesses of 228–800 mm and in raw lengths of 17.5–35.0 m. The second machine is the planing machine, which is specially built to handle the wide range of dimensions of the Kielsteg elements. The elements are planed to size in one pass through the machine.
Discussion of the participants, impressed with the scale of wooden structures, because we haven't seen such product in Ukraine yet, was flowing around possibilities to use these technologies in Ukraine. All have agreed that, of course, the construction of wooden multi-story apartment buildings or commercial buildings, unfortunately, is not yet a trend in Ukraine, but soon should become a trend and it would be a good niche for those, who will feel the situation and start such production.
Weitzer Parkett Flooring http://www.weitzer-parkett.com/en/ – producer of high end parquet, they call their products "intelligent". All products are produced with special steaming technologies, laser sorting of lamellas, precise geometry. From four sides the plank is preserved from humidity by wax, and the parquet itself is treated with 7 layers of lacquer, which excludes scratches or damage by chemicals. Types of parquet include maintenance-free parquet, "healthy" parquet and "sound-reduction" parquet. Company positions itself as a family company with the responsible attitude towards environment (the production has to be placed in the region and not where it is cheaper, no use of tropical wood) and towards workers. Weitzer Parkett is the company with a long history, run by the 7th generation of owners. Currently the company is managed mostly by women.
KAPO www.kapo.at – is another furniture producer with focus on contemporary design and durability of the products. During painting and lacquering they use exclusively water-based paints, don't use solvents and don't harm environment. The enterprise is working since 1927 and its success is in the combination of traditions with requirements of contemporary customer. Well thought through idea of the product, use of modern technologies, high quality, often manual work – are the conditions of KAPO's success.
Day 4
Schloffer furniture.design.development http://www.schloffer.com/index.php?id=7 produces integrated solutions mainly for foodservice industry. This enterprise designs, produces and installs furniture for clients, like McDonalds all over the world, including Ukraine. In Styria the company produces furniture, besides,in each country the company has network of local partners, which supply elements for decoration, which are carefully selected from the point of view of timely supplies, because average time of starting a McDonalds in a new location is three weeks. Our participants were impressed by the software, which allows to track the whole order and its separate elements from the production decision to the delivery.
From visits to these nine companies we can point out the following common features, which are the basis for effective production:
Family companies with a long-standing history
Support of local producers – almost every company buys local raw materials, the products have the sign "Made in Styira", "Made in Austria"
Many companies have almost ideal storage of materials, storage operations are automated, efficiency of cutting the material and its use at the parquet and furniture production is close to 100%: the residues from one cutting operation are first priority for use in the next operation
Boilers use own residues, and its profitability is carefully calculated: at one of the companies we learned that company sells its timber residues at the same time buys technical timber for its boiler at a 30% lower price. After that all produced electric power is sold into the network at the green tariff and demanded power is bought at the regular price.
Except for sawmills, all companies work with custom orders. The aim is not to get a long-term contract for large volumes, as everyone understands that today flexibility and individual solutions are the key.
Feedback of participants of the study tour:
Yuriy Hryha, "Krokwood" Ltd: I was impressed by the fact that Katzbeck company completely documented 113 production processes, and all of them go through continuous optimization process. Exceptional organization of production, no matter how automatic the processes are!
Anriy Kryshchuk, "Eurostandart" Ltd: companies are completely customer oriented, they talk to client in his language.
Ihor Khomyk, "Agroderew" Ltd: we have often seen moisturization (water sprayed in the production areas), it improves quality of wood. I noted it down for myself. Where the machine does not work, aspiration closes down, - as a result, energy saving.
Anatoliy Shamanskyi, "Gelika" furniture factory: we have seen large scale mass production with intensive working dynamics as well as companies with slow rhythm, where there is time for creativity, but we can learn from each of them.
Volodymyr Turchyn, "Mebli Styl" furniture factory: when I come back home I will make calculations and make a decision whether I go for mass production, or custom orders.
Yaroslav Rokosovyk, "Interwoodkommerz": we should take care of next generations following the experience of Austrian companies.
Artem Ponomarenko, Woodwerk: Austria is a beautiful country, and its external beauty is a result of mutual respect of all people who live here. Furniture companies are our benchmarks, our reference; it is the visualization of what we dream of.
Study tour participants appreciate deeply the work of Wood Cluster Styria, Mr. Roland Oberwimmer and Mrs. Evelin Schmidt for well-prepared program and excellent organization of the study tour.
Additional: study tour was carried out within the International RERAM project: Promoting a partnership among companies, business facilitators, scientists and authorities to foster efficient use of raw materials and resources for a more competitive forestry and wood manufacturing sector, which unites 12 partners from EU countries (Germany, Belgium, Austria, Poland) and ENP countries (Ukraine, Moldova, Georgia) and is implemented in framework of Framework Program 7 with the financial support of European Commission.