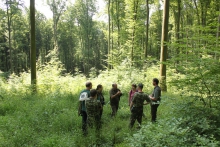 Invited by the Head of Hungarian national organization of Pro Silva, and deputy general manager of Bakonyerdo enterprise, Mr. Ivan Horvath, representatives of state forest enterprises of Zakarpattya together with NGO FORZA visited Hungary and learned about activities of the enterprise.
Forest area of Bakony Erdo covers 62 400 hectares, enterprise consists of 10 divisions, of which 8 – forest management and 2 – production units, namely sawmill and parquet production, which is the largest parquet producer in Hungary.
During three days of the visit participants had visited forest areas, different by natural conditions, types of forests and forest management practices, learned about Pro Silva approaches, natural regeneration of oak stands, drying of pine mono-cultures and respective replacement by other species, issues of hunting management, work of forest trees nursery, parquet production with annual final product volume of 730 thousands m2 and sales to more than 20 countries, activities of the enterprise in field of environmental education of schoolchildren and adults together with forest-based tourism etc.
Bakonyerdo works in the form of state close joint stock company from the time of the reform of forest system in 1993, at present moment there are 22 joint stock companies - forest enterprises in Hungary, and all of them are profitable. These enterprises manage more than 50% of the forest area in the country. Along with this, more than 40% of forests are in private ownership, although forest management in private forests by the law is done by professional foresters and in accordance with 10-year forest management plan.
All forests of Bakonyerdo are certified by FSC. In total area of the forests main species are Turkey Oak (24%), oak (quercus robur) (19%), beech (19%), pine (13%), hornbeam (10%), and other, although structure of forest harvesting is composed of Turkey oak - 39%, beech - 28 % and regular oak - 17 %. Forest management is done in clear cuts in form of forest regeneration cuts in several interventions with natural regeneration, but in beech-oak-hornbeam mixed forests for more than 25 years foresters use approaches of Pro Silva, or constant forest cover and ensure beautiful look of natural forest. Some forests of the enterprise currently suffer from dieback of black pine, which is naturally replaced by ash, Turkey oak and downy oak. What is interesting, that each compartment and subcompartment is treated by foresters with special approach, selected in accordance with the condition of the forest and long-term goal of forest management aimed at creation of high productive stabile forests. By new forest law, every new 10-year management plan should have 10% more forests, managed with the principles of Pro Silva or similarly.
Hunting management is done at 62 thousand hectares, last year there was 4594 units of big hunting animals collected, which is 9% less than planned figure. The thing is that the population of big hunting animals is so high, that they cause damages of forest regeneration and agricultural fields, and require high rate of collection.
By law, all forest management enterprises should be transparent and accountable to citizens of Hungary and should in time and fully inform people about activity of the enterprise. Bakonyerdo also pays great attention to the environmental education, which is done through four so called Forestry Schools, where children can come for a daily or weekly course of education about the forest. It is interesting that all schools are different, for example, school which provides education and accommodation services is a former dormitory of forestry workers, which was renovated by the enterprise and reorganized as training center. Later partly with the financial support of EU they created special training room for learning different components of forest ecosystem. At present time this center is self-sufficient.
Besides these training centers, the enterprise is managing hunting huts, which several years ago were renovated and reoriented for use not only by hunters but also by tourists – groups of hikers and family tourists. Eight guesthouses of different types with all facilities are open for tourists, who want to spend time in the middle of natural forests of mountainous and plain landscapes. Besides marked hiking trails and beautiful natural forests, besides the opportunities to observe wild nature and fish, this area is rich with historical and cultural heritage – in the vicinity there are around 10 old castles, small traditional villages and towns, traditional vine making farms etc. In order to create more interests among tourists to come to the area, Bakonyerdo has implemented project, co-financed by EU, by which they organized small recreation sites along the hiking trail and along the roads, built 6 observation towers and created the main point of interest – the House of Nature, which combines functions of tourist visit center with the environmental education and information center for children and adults. The idea of creation of the House of Nature is to make it a starting point for organized groups of tourists, who can get all necessary information about the area and services of tourist guide, and for groups of schoolchildren or pre-school children – educational center, where using game approach, children learn about all elements of forest ecosystem of this area and the work of foresters.
Visit to Hungary to the Bakonyerdo enterprise became special to us, because we found high professional level of Hungarian foresters, deep understanding of forest as an ecosystem with all its interrelated components and its impact on the society, refined hospitality of foresters and their openness to exchange of knowledge and ideas with Ukrainian colleagues.
With appreciation for excellent organization of this visit we are waiting for visit of our Hungarian colleagues to Zakarpattya.
Please, ss photo report at the adress: https://picasaweb.google.com/113805013373103711164/Bakonyerdo?authuser=0...