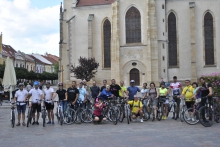 EMW campaigning, bicycle infrastructure of Prešov, biking in the city and the Euro Velo 11 route - such an ambitious goal was set by co-organizers of the study visit to Prešov for Ukrainian cycling activists within the "European Mobility Week - Carpathian Network" project.
About 30 participants from different cities and towns of Zakarpattya region and Chernivts,i Kyiv, Myrgorod and Vinnytsia were acquainted with the activities of Presov biking NGO "Kostitras" dedicated to EMW campaign and cycling promotion, experienced biking in the city and discussed Prešov cycling infrastructure solutions as well as learned about the features of various creative activities for getting people on the bikes to get inspiration for the coming EMW 2016 campaign in own communities.
You can get more info from the video https://www.youtube.com/watch?v=gwm3e4i8_d4&feature=youtu.be
On behalf of the FORZA NGO we sincerely thank Tomas Palo and Viera Štupakova from NGO "Kostitras", Miroslav Širgel, Director of the Transport Department in Presov city for the excellent organization and interesting information and TV Channel Tisa 1, in particular journalist Anastasia Nozhka and cameraman Vadim Surmay for producing the video highlighting the cycling issues.
Reference: CBC02/PSK-I/030 "European Mobility Week - Carpathian Network" project is supported by Norway grant through the Norwegian Financial Mechanism / co-financed by the state budget of the Slovak Republic "Slovakia-Ukraine: Cooperation across borders / 'EEA and Norway Grants - Working for the common values www.norwaygrants.org