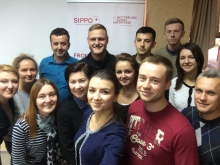 Traditionally, exporting of products has been made by the Ukrainian SMEs intuitively or based on existing customers' requirements. How to properly research and plan export and develop market profiles for technical wood sector was the topic for the training we had for wood processing companies.
"Training on export market research and development of market profiles for technical wood sector" was delivered by a trainer certified from the International Trade Center and coming to Ukraine all the way from Serbia Aleksandar Jovanovic. The training has been supported by the Swiss Export Promotion Program (SIPPO) and organized by FORZA NGO.
If the companies had to pay to consultant for such an export market report, it would have cost a pretty penny. After the four day training in Uzhgorod and in Lviv companies were surprised to be able to themselves put together and present comprehensive market analysis reports on:
Market of furniture panel in Norway
Market of chairs in Poland
Market of table tops in Germany
Market of wooden doors in Germany
Participants have been able to identify their own competitive advantages as exporters to the specific markets and propose first steps on how to approach these markets. These reports are a source of valuable information and are to be taken back home and presented to the companies' decision makers.