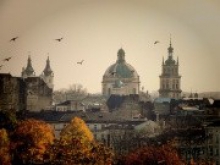 A trainers' programme in resource and energy efficiency management for wood-based industries will be held in the beautiful city of Lviv, Western Ukraine, hosted by the Ukranian National Forestry University (UNFU) and FORZA NGO. The training programme will be provided by the Austrian Wood Cluster Styria (HCS) in collaboration with two specialists.
The training modules comprise theoretical introductions and interactive exercises on:
Cleaner Production and Resource Efficiency
Material flow analysis
Water Management and Waste Management
Tools and Efficiency Guidelines
The practical training will include excursions to the woodworking enterprises in the Lviv region:
FAKRO-Lviv - window manufacturer
BUK-HOLDING - producer of windows, doors, stairs and staircases, balusters, barriers, other small wooden items for interior design
YURVIT - producer of furniture from solid wood
Joiners and carpenters professional school in Yaniv
A full "real check day" together with the trainers will be performed on the example of the enterprise "FURNITURE STYLE". Visiting the production units the trainers will try to identify the possible ways of the resource and energy efficiency meet with the enterprise management and discuss the observations and improvement options.