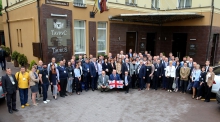 Lviv, 18 of May: more than 80 participants from different countries exchanged experience in framework of final conference of RERAM European project.

Assistance to reliable partnership among enterprises, scientists and authorities with the goal to effectively use raw materials and resources was the key issue of the conference.

In framework of RERAM project company managers learned about production modernization and new approaches to ensure sustainability, as a result experts have developed training program for companies on issues of sustainable use of resources. Trained specialists and auditors considered individual options for processes improvement and personnel training for every company. 19 wood processing enterprises in Ukraine, Moldova, Georgia, and Austria received specific practical recommendations with identification of the saving potential and proposals of solutions without investments or with little ones. «Mebli Styl» Ltd. (Ukraine) and «Goliat Vita» Ltd. (Moldova) shared with conference participants their experience in implementation of the recommendations provided by RERAM project experts, and stressed, that one of the most important steps of successful solution of the problem is training of people on issues of energy saving.

Besides this, participants talked about innovations and value added chains, opportunities and limitations on the path of changes. Practicality of issues, build on own achievements, provided possibility for participants to share experience as well as learn about hidden rocks on the way towards optimization. Importance of the product design as an element of competitiveness increase, was highlighted by WOODWERK company and «Khochu Rayu» design bureau. About «the taste of innovations» and real results of introduction of it, about changes which should be made at the furniture factories, we have learned from «ESCADA-М» Ltd.

Dr. Uwe Kies of the Wald-Zentrum in Germany, the coordinator of the RERAM project, points out the usefulness for every enterprise: «Less input of resources with the same high output always results in less production costs and higher climate protection. RERAM demonstrated that resource efficiency and sustainability represents a real opportunity for the forest-based sector in Eastern Europe. It is always a win-win situation for the companies, the environment and the climate – and in general for our society».

Prof. Dr. Orest Kiyko of the Ukrainian National Forest University, stresses the importance of a strong partnership of companies, scientists and authorities: «Today Ukraine's forest-based sector needs a joint initiative including all forestry, woodworking and furniture industries. Such an initiative shall develop the sector with a coordinated support for more sustainable, domestic value added. The RERAM project laid a good foundation and demonstrated that it is important to strengthen the domestic growth potential in SMEs, research and innovation through broader public dissemination and networking in the ENP region. Resource efficiency is the smart solution for this.»

Resource use efficiency opens up new opportunities for Ukrainian wood-processing companies
Forest and wood processing sector is a basis of economy: needed employment and foundation for sustainable development are created here. Small and medium enterprises dominate in the wood processing industry of Ukraine; they use significant volumes of the raw materials and not always do it effectively due to lack of knowledge about up to date technologies and clean production. Two-year project RERAM, financed from the European Commission Framework Program 7 was aimed at finding practical solutions for local wood processors of small and medium scale in European Neighbourhood and Partnership countries, particularly Ukraine.

As a result of two-year work of RERAM experts have developed methodological recommendations on the improvement of use of wood and energy resources; the document soon will be placed at www.reram.eu.

Photos from the conference are here: https://flic.kr/s/aHskxkLtvD

Presentations from the conference see below.