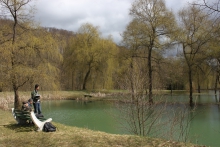 On April 7-8, 2015, a series of activities were carried out within the international project HYDROFOR: Systems of optimal forest management for enhancing the hydrological role of forests in preventing the floods in Bodrog river catchment.
The project aims to contribute to the harmonised prevention of flood risks in Bodrog river catchment through enhancement of hydrological effect of forests and improved forest management practices. For this, the project will develop convincing recommendation for forest managers for the improvement of forest management methods and practices for strengthening forest flood-regulatory capacity.
With that in mind, the Head of the Transcarpathian Forest and Hunting Administration Mykhajlo Lypchej carried out a meeting on the basis of Polyana forest range (the project's pilot area). The participants also included: from Svalyava State Forest Enterprise - Olexander Dufinets (Director) and V. Senko, T. Matushak; Ivan Barna (Mizhhyrya State Forest Enterprise, Director); Roman Kovalyshyn (Transcarpatahian Forest Technical College, Director); from NGO FORZA – Lesya Loyko, Head and Yuri Derbal, Manager; from Ukrainian Research Institute of Mountain Forestry – Vasyl Parpan, Director and Volodymyr Korzhov, First Deputy Director.
Based on discussion and field trips to forest areas, it was decided to establish two demonstration plots in Svalyava State Forest Enterprise and Perechyn State Forest Enterprise. The forest areas are meant to demonstrate the set of activities aimed at improving the hydrological role of the mountain forest areas.
In June 2015, joint Ukrainian-Slovak Workshops will be organized at the selected demonstration plots for foresters from both countries, as well as for communities living in the Uzh and Latorytsa river basin.