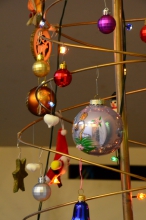 The year of 2015 is over, this was the fifth year of FORZA working in a status of the non-governmental organization.
As in previous years, there was much work to do in 2015.
PROJECTS
Together with our partners we finalized three projects:
LOC- CLIM-ACT: Local acting on climate change impacts, http://forza.org.ua/en/loc-clim-act/loc-clim-act-local-acting-climate-change-impacts (funded by HUSKROUA ENPI CBC program, co-financed by EU),
HYDROFOR: Systems of optimal forest management for enhancing the hydrological role of forests in preventing the floods in Bodrog river catchment, http://forza.org.ua/en/hydrofor/hydrofor-systems-optimal-forest-management-enhancing-hydrological-role-forests-preventing (funded by HUSKROUA ENPI CBC program, co-financed by EU), and
YES - Young Energy Specialists against energy waste in cross-border schools, http://forza.org.ua/en/yes/yes-young-energy-specialists-against-energy-waste-cross-border-schools (funded by HUSKROUA ENPI CBC program, co-financed by EU).
At the same time we started two new projects:
DETLUP: Development through land use planning, http://forza.org.ua/en/detlup/detlup-project-development-through-land-use-planning (supported by International Visegrad Fund) and
FORSOC: Forests for the society – forests without barriers (at the end of February the web-site will be launched www.forsoc.org) (supported by Norwegian Financial Mechanism).
And we continue to implement the project
RERAM: Enhancing links between science and innovations in field of energy and resource use efficiency, http://forza.org.ua/en/reram/reram (funded by FP7 INCO Program of the European Commission)
PARTNERS
This year we were lucky to meet and work with some new partners, namely: State enterprises "Manevychi forest management" (Volynska oblast of Ukraine), "Skole forest management" and "Slavsk forest management" (Lvivska oblast), "Berehomet forest and hunting management" (Chernivtsi oblast), State forest enterprise Bakonyerdő (Hungary), State forest and agricultural enterprise Ulič and State forest enterprise Vranov (Slovakia), MOBILISSIMUS Ltd. (Hungary), ProPark, Foundation for protected areas (Romania), non-governmental organizations «UzemnePlany.sk» (Slovakia) and «SvitOsvit» (Kyiv).
Besides this, in 2015 we were very happy to continue collaboration with our old partners!
EVENTS
Within active projects and collaboration programs, in Zakarpattya, we have organized 7 study tours for exchange of experience on issues of enhancement of hydrological forest functions, sustainable forest management, community development and energy efficiency.
All over Ukraine, our team organized and implemented 28 trainings, workshops and other information-educational activities, with 832 participants.
Our team and our partners participated in 18 international meetings and seminars.
FORZA experts in an international team of experts from Austria, Poland, Georgia and Moldova, in framework of RERAM project participated in trainings and two reality checks on issues of resource efficiency of wood-processing enterprises.
FORZA representatives had a chance to present two speeches at the first International WoodInvestForum 2015 within the LISDEREVMASH exhibition: talked about reforms in forest management system and creation of partnerships in wood-processing industry.
The web-map http://193.87.86.186/hydrofor/hydrofor_webmap.html, created within HYDROFOR project, is open for public, and features species distribution, soils, forest cover and flood risks at the cross-border territory of Slovakia and Ukraine within the Bodrog river catchment.
Our expert participated in the USFS International Seminar on Watershed Management and training on community outreach in protected areas by ProPark, Romania.
Training seminar on use and marketing of non-timber forest products for the representatives of state forest enterprises of Carpathian region of Ukraine was carried out in Volyn oblast with the financial support of the US Forest Service.
Significant event, organized by our team for Ukrainian foresters, conducted in Carpathians with the financial support of USFS, was an International training for the representatives of Balkan countries, Ukraine and Belarus on issues of forest road construction with focus on environmental issues.
Our old colleague and good friend Erich Oberholzer visited the region with consultancy mission on issues of close to nature silviculture and multifunctional forest management. Consultations were devoted to national nature parks of Ukrainian Carpathians, with particular focus on NNP "Zacharovanyi Kray", our team also received professional advices from our colleague-forester.
Youth from school energy management teams from Mukachevo (Ukraine) and Baia Mare (Romania) learned about sustainable practices of energy consumption in school and at home, and schools received set of equipment and materials for monitoring of energy consumption and improvement of energy efficiency in their schools. Besides this, school and kindergarten teachers from Mukachevo also had an opportunity to learn new approaches in energy efficiency trainings from experienced trainer from Kyiv.
All-Ukrainian training for cities with population over 200 000 inhabitants on issues of sustainable urban mobility planning, meaning planning of transport and mobility in cities on the principles of social equity and sustainability, environmental safety and life quality improvement, was conducted in Lviv with the financial support of Heinrich Bioll Foundation's Office in Ukraine.
FORZA (Ukraine), Carpathian Development Institute (Slovakia) and NORRIA Agency (Hungary) established a regional network of resource centers on issues of climate change adaptation for the benefit of local authorities and self-governments.
Thanks to the cooperation with SIPPO program, Ukrainian wood-processing companies set up contacts with customers from EU. First contracts are already in operation. Three companies participated in international fair INTERZUM 2015 (Germany).
Together with other organizations from Danube region, we participated in Second Participation Day, Third General Assembly of Danube Civil Society Forum and Fourth Annual EU Danube Strategy Forum in Ulm (Germany).
PUBLICATIONS
First in Ukraine publication dedicated to practical issues of close to nature silviculture in Carpathian Region of Ukraine and Slovakia (in UA and SK languages) http://forza.org.ua/uk/nablizhene-do-prirodi-ta-bagatofunkcionalne-vedennya-lisovogo-gospodarstva-v-karpatskomu-regioni
Within the LOC-CLIM-ACT project the brochure on adaptation to climate change for those, who want to act was prepared in Ukrainian, Slovakian and Hungarian languages: http://forza.org.ua/sites/default/files/adaptation_climate_change_brochure_ua_screen_final.pdf, as well as handbook on climate change in the same language versions: http://forza.org.ua/sites/default/files/global_climate_changes_training_manual_ua_screen_final.pdf
In the YES project our Romanian partner AMEMM prepared and we translated and adopted brochure "BEING ECO IS FUN!". You can get a copy at FORZA office.
Within the HYDROFOR project Ukrainian and Slovakian experts jointly prepared recommendations on the optimization of forest management and silviculture for enhancement of hydrological functions of forest, incl.based on hydrological situation modelling and use of demonstration plots both in Ukraine and Slovakia: two publications for forestry practitioners prepared in both languages "Forest management and flood risk occurrence at Slovakian and Ukrainian parts of Bodrog river catchment" and "Forest management as a system for reduction of flood occurrence. Practical recommendations" available soon at FORZA web-site.
LAST, BUT NOT LEAST
Our team is remains in the same composition.
In 2015 our web-site had 5592 visits, including 3781 – from Ukraine (67%), the rest – from 46 countries all over the world. Most visitors were from Germany, Slovakia, USA, Switzerland, Belarus, Hungary, Romania, Austria and Netherlands.
FORZA NGO is a member of Danube Civil Society Forum, Working group of non-governmental organizations on climate change issues in Ukraine, member of Cross-border network of Climate change resource centers and Civil society council of Zakarpattya Regional State Administration.
We maintain Green Office Principles: in 2015 we collected and sent for processing: 28 kg of plastic, 79 kg of paper and 80 kg of glass.
We made an artificial and beautiful DIY Chrismas tree!
AND FINALLY
We are sincerely grateful to our partners and experts for cooperation and input in resolution of valuable issues of sustainable development of our region, and to donor organizations, volunteers and friends – for financial and moral support, which enables us to fulfill our ideas and projects.